Overview of disinformation and psychological operations of Czechoslovak intelligence around the world in 1965
Přidáno: 25. 11. 2019
An archival document from 10 December 1965 of the Chief of Section 8 of Directorate I of the Ministry of the Interior Maj. Jiří Borecký addressed to intelligence service command, entitled The State of Work on Active Measures (AM) in Directorate I of the Ministry of the Interior and its annex Analysis of Implemented and Ongoing Active Measures Approved between 1 January and 30 November 1965, offers a more detailed look at the active measures from one year. The document offers invaluable insight into disinformation operations over the course of a year (1965).
Communist intelligence highly rated the results of AM PANAR, PSYCHO, OASA, LUNA, SIGNÁL, and RTUŤ. Good results were also achieved with AM RUFMORD in cooperation with the Soviet KGB, and with AM DJAMILA in cooperation with Hungarian intelligence. Active measure KARNO later made it into the military hall of fame of Czechoslovak intelligence. The document confirms that the intelligence service even carried out activities in Czechoslovakia itself with the intention of actively influencing the public through operations that were mainly directed against West Germany.
Also, individual operations can be examined in more detail through extant files of secret collaborators who participated in operations. In France, for example, Agent Pípa collaborated on active measures for several years (see our article: Fake political will of Konrad Adenauer published in Le Canard enchaîné by an StB agent in 1963).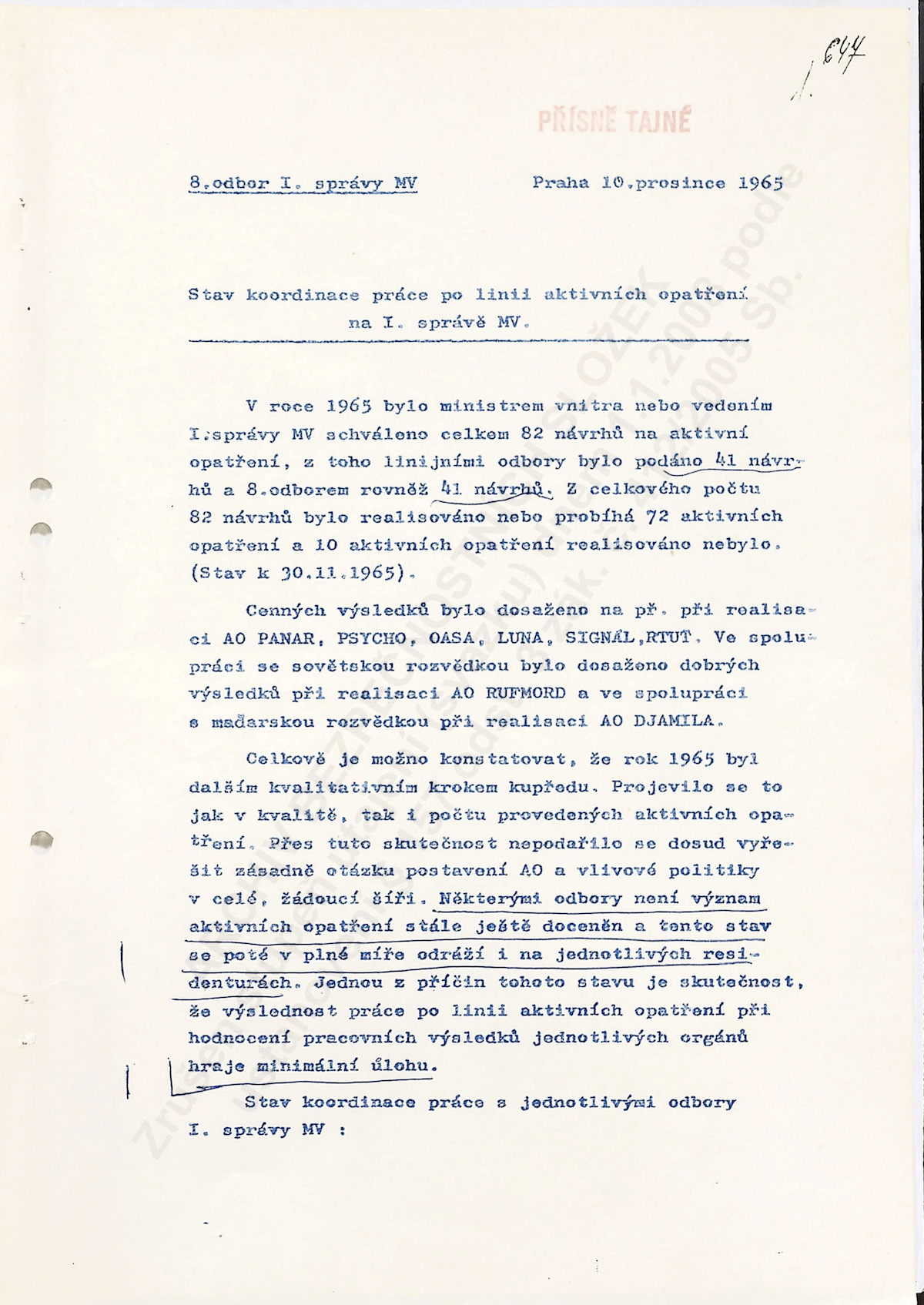 ---
ANALYSIS OF IMPLEMENTED AND ONGOING ACTIVE MEASURES APPROVED IN THE PERIOD FROM 1 JANUARY TO 30 NOVEMBER 1965
1) Number and code names of active measures carried out by Section:
Section 1 (political intelligence – USA, Canada, Latin America)
approved: 6 active meassures
implemented and ongoing: 6 active measures - CLARO, MORA, HUBERT, PANAR, EDA, COCHINO
not implemented: -
Section 2 (political intelligence – West Germany, Austria, West Berlin)
approved 10 active measures
implemented and ongoing: 8 active measures - PSYCHO, FOCH, DIETER' MARTIN, OŘECH' HERMAN' SPOR, PLATZA
not implemented active measures: FRIED, MNICHOV 7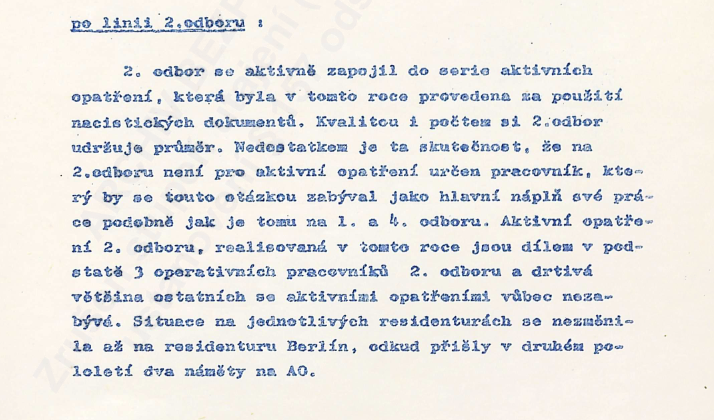 Section 3 (political intelligence – England, Francie, Italy, Greece, Sweden and Belgium)
approved
implemented and ongoing: -
not implemented: -
Section 4 (political intelligence – Africa and Asia)
approved: 24 active measures
implemented and ongoing: 20 active measures - DIAMANT, ZNERVOSNĚNÍ, KANÁR,GENTLEMAN,OAZA, NÁTLAK, STAVBA,PROGRAM, ZÁSAH,VÝZBROJ, VRÁNA, SJEZD, PINTO, HROZBA, PIVOT, KOLO, BURÁK 3, BRUS, SIGNÁL, MARCELA
not implemented: 4 AM - MACHINACE, IZRA, ROZPOR, MARS
Section 6 (foreign counterintelligence)
approved: 1 active measure
implemented and ongoing: 1 active measure - DOMOV I
not implemented:
Section 8 (active measures and disinformation)
approved: 41 active measures
implemented and ongoing: 37 active measures - PALEC, RUFMORD, VÝZVA ,UZNÁNÍ, ÚVĚR, PŘESUN, MINA, LUNA, VANDA ,NASA 'KAMIÓN, GUMAI, PAPÍR, ELISABETH, ALICE MARYLIN, DJAMILA, MAZUT, KOMORA, RTUŤ, SPLIT, STAN, BELA, DOMOV, GARY, KÁVA, WALTER, DOMOV II ,START, TRAVIČ, JUTA, CITRUS, LIBERALISACE, KARNO, SKLAD, ARTHUR, PSYCHO 2
not implemented: 4 active measures - JARMILA, PARLAMENTARIO' SERVICE, MINISTERIO
Total from 1.1. - 30.11.1965
approved: 82 active measures 
implemented and ongoing: 72 active measures 
not implemented: 10 active measures
2) Active measures implemented, broken down by country:
Section 1
Argentina   3 AMs   CLARO, MORA, PANAR
Brazil       2 AMs   MORA, PANAR
Chile           2 AMs   MORA, PANAR
Columbia    1 AM   PANAR
Mexico        5 AMs   CLARO, COCHINO, EDA' MORA, PANAR
Uruguay     5 AMs   CLARO' EDA, HUBERT, MORA, PANAR
USA           1 AM   PANAR
Venezuela  3 AMs   EDA, MORA, PANAR
Section 2
Czechoslovakia 5 AMs   FOCH, HERMAN, MARTIN, OŘECH, PSYCHO
West Berlin 1 AM   PLATZA
West Germany 5 AMs   DIETER, FOCH, HERMAN, SPOR, OŘECH
Austria 1 AM OŘECH
Great Britain 1 AM   SPOR
Section 3
----------------------
Section 4
Ghana      3 AMs   DIAMANT, KANÁR, VÝZBROJ
Guinea     4 AMs   GENTLEMAN, KOLO' SIGNÁL, STAVBA
India         2 AMs   MARCELA, NÁTLAK
Indonesia 1 AM   ZNERVOSNĚNÍ
Kenya        1 AM   PROGRAM
Lebanon    1 AM   PINTO
Nigeria     4 AMs   BURÁK 3, HROZBA, SJEZD, ZÁSAH
Syria        3 AMs   OAZA, PINTO, PIVOT
Tanzania  2 AMs BRUS, VRÁNA
Section 6
West Germany   1 AM   DOMOV I
USA   1 AM   DOMOV I
Section 8
Algeria 1 AM UZNÁNÍ
Belgium 1 AM PSYCHO II
Brazil 2 AMs KÁVA, MARYLIN
Czechoslovakia 15 AMs ALICE, ARTHUR, DOMOV, DOMOV II, ELISABETH, MINA, PAPÍR, PŘESUN, PSYCHO II, RUFMORD, RTUŤ, SPLIT, VÝZVA, WALTER, WANDA
France 5 AMs LIBERALISACE, PSYCHO II, SKLAD, START, ÚVĚR
Ghana 4 AMs DJAMILA, GARY, START, TRAVIČ
Guinea 1 AM START
India 4 AMs JUTA, MINA, STAN, START
Indonesia 3 AMs KARNO, LUNA, UZNÁNÍ
Iraq 1 AM UZNÁNÍ
Japan 1 AM START
Kenya 1 AM START
Lebanon 3 AMs CITRUS, START, UZNÁNÍ
Morocco 1 AM UZNÁNÍ
Mexico 1 AM START
West Germany 6 AMs ARTHUR, GUMA I, MAZUT, NASA, PALEC, UZNÁNÍ
Austria 1 AM ARTHUR
Greece 2 AMs KAMION, KOMORA
Syria 4 AMs BELA, DJAMILA, START, UZNÁNÍ
Sweden 1 AM PALEC
Tanzania 1 AM START
Uruguay 1 AM START
USA 1 AM MARYLIN
Great Britain 2 AM GUMA 1, SKLAD
3.) Ways of implementing active measures
questions in Parliament
publication of articles
publication of documents
protest telegrams
protest petitions
radio commentary
counterfeit USIS bulletin
comments in the press
speeches in parliament
issuing of warrants
publication of books
pamphlets
acounterfeit letters
discussions
protest rallies
conferences
public meetings
establishing troops to defend Panama
writing on local banknotes
demonstrations
transmission of information
transmission of disinformation
letters from readers
whispers in diplomatic circles
speeches in the government
press campaigns
debates in parliament
posters
printing of stickers
letters of solidarity to government officials
resolutions at conventions
speeches at meetings
photograph exhibitions
official handing over of documents
press conferences
ČTK (Czechoslovak News Agency) statements
blackmail
Brazilian MFA notes (falsified)
statements by political parties
TV movies
official intervention by ambassadors
broadcasting of Czechoslovak radio abroad
agency interventions
questions at conventions
Intelligence networks used (code names):
Argentina:    1 - NACIR
Brazil:         2 - LEITE, ROCHA
Czechoslovakia:    7 - KOSEK, KOCÍKOVÁ, BERTHOLD, LUKÁŠ, HALKEN, KAREL, PETR
France:        2 - PÍPA, SAMOTÁŘ
Ghana:        5 - KOPTA, POLDA, BACIL OGDEN, BASNER
Guinea:        2 - SEKRETÁŘ, KAMANO
Chile:        2 - TALIO, TUFO
India:        4 - LACO, MOGUL, SAMIR, DOVOLIL
Indonesia:    6 - SUEHARDI, PAVKA , BOBEK, LITERÁT, GOTMAN, ANHAR
Iraq:        1 - KOMÍNEK
Kenya:        1 - ODONGO
Lebanon:        5 - GAJDOŠ, CHVAL, KLIKAR, FAKHR, FAGHARA
Morocco:        3 - KLADINA, KLAPAL, KAFA
Mexico:        6 - ARMAS, ALONSO, ALBA, ADAM, BABIO, CID
Nigeria:        5 - SOSNA, LIŠÁK, OYERO, KOLAGBODI, AMAY
West Germany:    3 - MARYNA, SCHEDIVY, GRADEL
Austria:        1 - HACKE
Greece:        2 - KÁRNÍK, LUCIUS
Syria:        4 - MIRAKL, KOLKA, GAMA, KHEIR
Uruguay:        2 - RIOS, RAJKA
Venezuela:    1 - GOLF
West Germany:    1 - MAY
TOTAL: 66
5) Financial costs
6 501, - US$
252,- Lstg
670,- Leg
2.914,- Kčs
1,204.000,- Indon. rupiah
1.287,- Pol. zl.
6) Technology used
Technology used for 9 active measures:
PANAR
COCHINO
DOMOV I
RUFMORD
UZNÁNÍ
NASA
DJAMILA
RTUŤ
BELA
7) Number of personnel who participated in the preparation and implementation of active measures:
in Czechoslovakia – in foreign countries:
Section 1:     5 - 9
Section 2:     9 - 6
Section 3:     x - 5
Section 4:     10 - 21
Section 6:     x - x
Section 8:    12 - x
Section 9:    2 - x
Total: 38 (Czechoslovakia) - 41 (abroad)​
8) Documents used:
Documents used for a total of 21 active measures as follows:
Section 1   1 AM
Section 2   6 AMs
Section 3   -
Section 4   1 AM
Section 6   -
Section 8   13 AMs
9) Focus of active measures:
Against:
US: 24 AMs
Germany: 25 AMs
UK: 6 AMs
France: 5 AMs
Other countries: 8 AMs
Czechoslovak emigration: 3 AMs
In support:
Czechoslovakia and socialist countries: 13 AMs
Source: ABS, f. ISF 0003
---
Prepared by: Peter Rendek